Are we moving towards
Revival in Ottawa?
Let's look forward to, and back through, some significant Christian events within our city these past few years.
These are just those that I am aware of (and attended many). Maybe you can suggest additional events. e-mail me.
I can't help but feel that these events are an indication of God's plan for this city.
Here they are, in reverse chronological order.

Banner created by Laurie-Ann Copple
6 - 9 August 2015 (Thu - Sun)
Fire and Fusion Conference - Evangelicals and Catholics together! Celebrating reconciled diversity.
Thu 6 Aug - Sun 9 Aug 2015
Nepean Sportsplex, 1701 Woodroffe Ave, Ottawa
Web info and registration
John Arnott, Matteo Calisi, Father Dimitri Sala, worship with David Ruis
Photos and videos from the conference.
Photos from the 2014 Fire and Fusion conference.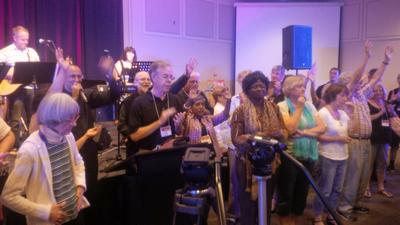 Fri 14 Nov 2015 and Sat 15 Nov
Dig and Delve
Exploring the deeper questions that humans ask
Location: Ottawa Little Theatre
Web @dianddelveott
31 Oct 2014, 7:15 am
Fifth annual Ottawa Civic Prayer Breakfast
Keynote speaker: Lorna Dueck
Ottawa Conference and Event Centre, 100 Coventry Road
$25 per person, $250 for table of 10. After 17 Oct these prices will be $30 and $300.
Tickets, information
Photos

28-31 Aug 2014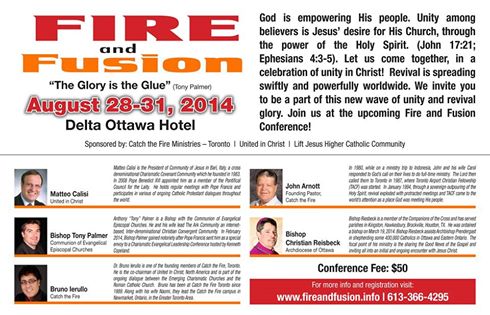 Catholics and evangelicals join forces in this movement, encouraged by Pope Francis.
Conference fee $50
Info: Website and 613-366-3295

27,28 June 2014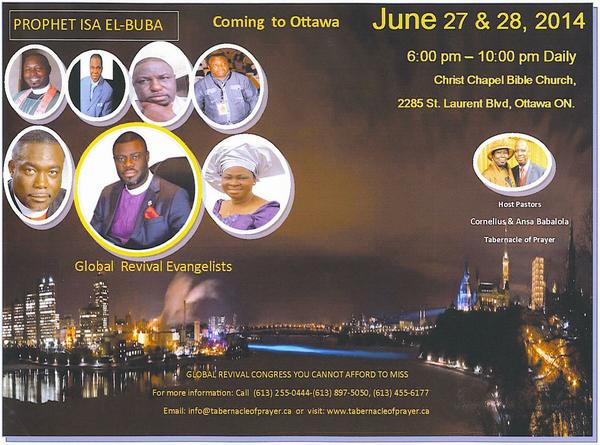 Ebomi comes to Christ's Chapel Bible Church, A7-2285 St. Laurent Blvd.
Hosts: Cornelius & Ansa Babalola from Tabernacle of Prayer, Ottawa
Sadly, El-Buba stayed in Joss, Nigeria, which was finally admitted by the team of US-based pastors who did make the trip to Ottawa.

8 June 2014
Global Day of Prayer
- 26 minute video from 2014

Sat 17 May 2014, 2:00 pm - 3:30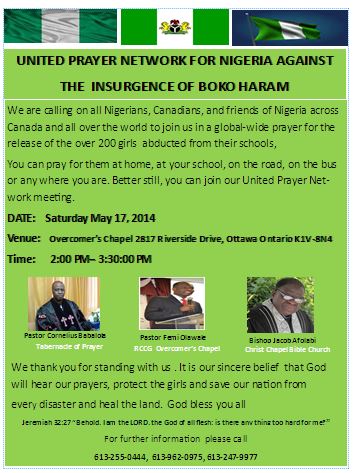 Global Call for united prayer against the Boko-Haram Insurgence
We invite all the interfaith community in Ottawa, across Canada and all over the world to pray for Nigeria and over 200 girls abducted from their school by the brutal Boko-Haram group. A special prayer gathering will be held in Ottawa this coming Saturday Please mark your calendar.
Venue: RCCG Overcomer's Chapel 2817 Riverside Drive Ottawa Ontario
TIME: 2:00 PM- 3:30 PM DATE: Saturday May 17, 2014
Pease help distribute the event poster, electronic and hard copy widely across the interfaith community
Attend the Bring Back our Girls Rally, Parliament Hill, Thursday 22 May, 11:00 am - 2
Pastor Cornelius Babalola
Tabernacle of Prayer
8 May 2014 National March for Life, Ottawa
See the story in photos
Easter Sunday, 20 April, 7:15 am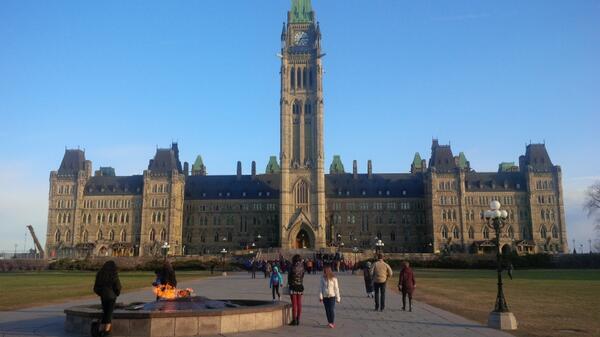 See more photos and video
Tue 1 April 2014, 1:30 - 4:30
Shifting Stats conference - reframing the Gospel for a New Canada
Church Leaders forum 2014
Presented by World Vision and Love Ottawa
Key speakers: Don Moore and Bruxey Cavey
Where: The 'Met' 2176 Prince of Wales Drive at Hunt Club, Ottawa
Registration and details
1-8 Nov 2013, across North America
My Hope, with Billy Graham
My Hope with Billy Graham - Site
Prepare for this massive event ... It happens in your home!
Sign up on the website as an individual or a church and access the on-line training.
1 Nov 2013, 7:15 am
Fouth annual Ottawa Civic Prayer Breakfast
Ottawa Conference and Event Centre, 100 Coventry Road
$25 per person, $250 for table of 10
Tickets, information

Sat 19 Oct 2013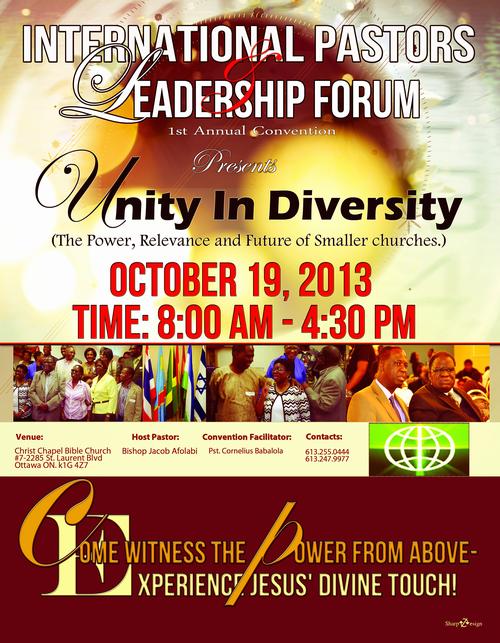 International Pastors and Leaders Forum
21 - 23 June (Friday - Sunday)
The Stand, with Gathering Nations International - Kenny Blacksmith
Information
As the original and host peoples of Canada, we are calling all leaders, spiritual fathers and mothers, and the young generation to stand together for God's standards. We believe, as we praise, worship and intercede, and share our hearts together; we will rebuild, restore and renew all that has been devastated in our people and nation. We must arise, shine and stand firm as a people and nation under God!
Pentecost Sunday 19 May 2013, 2:30 pm
Global Day of Prayer, this year on Parliament Hill.

Mon 13 May 2013, 7 pm
Are Bible translations trustworthy?
Ottawa Theological College presents a public lecture in Rm 245, Laframboise Hall, St Paul University, 249 Main St,
entitled, "Readability or Reliability: Are Bible translations trustworthy? The speaker was Dr. David Lyle Jeffrey.
Free admission. See poster.
Equipping Evangelists in partnership with Theshold Ministries presents:
Ottawa Area Catalytic Event, Wednesday 24 April 2013, 11:45 a.m.
You are invited to an area Equipping Evangelist information lunch (free)
Guest Speaker: T.V. Thomas, Director of The Centre for Evangelism & World Mission, Regina SK
Where: Kanata Baptist Church (465 Hazeldean Road Kanata, ON K2L 1V1 613-836-3145)
When: Wednesday, April 24th, 2013 from 11:45am - 1:30pm.
Why: to explore the benefits of on-going training to help your church become more missional. E2 hopes to launch new Networks in Ottawa and surrounding areas.
If you are interested in attending please contact Paul Simons at (705) 716-7271. or info(at)equippingevangelists.com
Event web page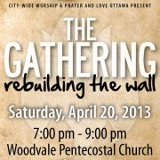 Sat 20 Apr 2013, 7 pm
City-Wide Worship and Prayer
Woodvale Pentecostal Church, 205 Greenbank Rd, Nepean
Citywide on Facebook
City-Wide is back after a 3-year break! Come and join us!
See photos
Posted March 2013
The Freedom Initiative, from Advisors with Purpose
Debt is a scourge of our times in the western world of affluence and credit cards. A new approach to helping people come out from under the burden of debt is called The Freedom Initiative. Teams of trained volunteers assist people in debt trouble to assess their options. The Freedom Initiative is promoted through Advisors with Purpose in Canada, who have launched a fundraising initiative so that the services provided will remain free and become known about in the community. You can help, now, on The Freedom Initiative site above. Listen to David Van Noppen on Over my Head, broadcast on CKCU 14 April 2013
Thursday 8 November 2012
Third annual Ottawa Civic Prayer Breakfast
Time: 7:15 a.m.
Guest Speaker: Paul McKechnie
Location: The Hampton Inn, 200 Coventry Road, Ottawa
Cost: $30 individual continental breakfast
or $250 for a table of 10
Tickets: Arlene, One Way Ministries, 613-225-0210
Information and tickets
Media are welcome to attend the breakfast.

24 October 2012
Love Ottawa (re-)launched at City Hall
Mission O has been re-incarnated as Love Ottawa under the spititual and temporal guidance of Richard Long. Mission O has been a key force for good in our community since the Billy Graham mission in 1998.
Your prayers are asked for Richard and the other leaders on the new team.
Love Ottawa.ca
Welcome to Christian Counselling Ottawa Fall Event
The Board of Directors, Christian Counselling Ottawa Presents
An Evening With Ravi Zacharias
Thursday, 13 September 2012 at 7:30 p.m.
at Cedarview Alliance Church, 2784 Cedarview Road, Ottawa, Ontario
SOLD OUT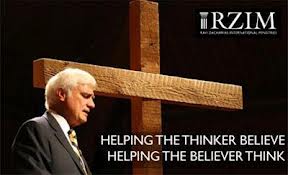 Mon 9 July 2012
Jim Cymbala, pastor of Brooklyn Tabernacle, in ottawa. Jim is the author of Fresh Wind, Fresh Fire
Jim led several major prayer events
for Rock the River
Location: Metropolitan Bible Church, 2176 Prince of Wales Drive, Ottawa
Pastors' & leaders' seminar on prayer 2:00 - 5:00 pm. See picture right as Jim led Ottawa pastors in prayer.
Concert of prayer for all 7 - 9 pm, open to all; free
Web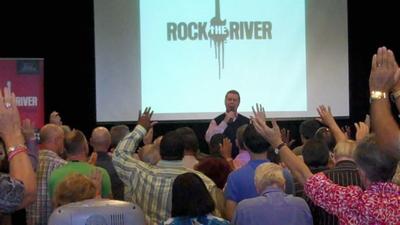 Wed 16 - 19 May 2012
2012 Ontario School of Power and Love
Making a difference outside the 4 walls of the church.
Web Register on-line today!

Thurs 8 March 2012
Tom White, Frontline Ministries
Tom's back! He'll be spending the day with us to inspire, encourage and enlarge our vision for a transformed city. He comes to us as a friend with a unique understanding of Ottawa's position as a capital city region. Tom White is in growing demand as one of the top global strategests for city reaching. Tom has facilitated hundreds of Leaders Prayer Summits in the U.S., Canada, Japan, Russia, Australia and Israel, Europe, Sri Lanka, and India.
RSVP now to reserve your place - Call 613-824-4905.
This is an open invitation to Pastors and Spouses, Christian Business and Prayer Leaders!
Greenbank Community Church, 51 Geeenbank Rd.
$30, includes lunch
Wed 25 Jan 9 - 1:30
ROCK THE RIVER - Pastors' Launch Event
Speaker: Will Graham, grandson of Billy Graham.
Registration 8:30 am. Free. Lunch included.
Info, registration (Click on Ottawa.)
Location: Bethel Pentecostal Church, 500 Viewmount
This is preparatory to a 2-day outreach Sept 29 & 30 focusing on reaching the next generations.
Main events 29 & 30 Sept at Britannia Park



Watch a short video of Day 1 of Rock the River
Sun 2 - Sat 8 October: Ottawa Prayer Walking Week
This did not end after 1 week! It continues ...




Let's cover our city with prayer! Wouldn't it be great if every street and every house in Ottawa was prayed for? Click the image above for details, including tracking the streets walked. This is an initiative of Mission O and Together Canada
Sat 27 Aug 2011, starting 9:30 am
The Cry - Ottawa, Parliament Hill
Poster Video Info stream

OTTAWA VALLEY OUTPOURING - Miracles, signs and wonders
Awake the Nation
7 Aug to 12 Aug 2011 nightly at 7 pm
Awake the Nation Holy Spirit Tent Meetings
Worship led by John Maracle, Bev Moorhead & River of Life, Robert & Kelly Augi, and The Rock church

Fri 4 Nov - Sun 7 Nov 2010
Anglican Network in Canada Synod 2010, and 125th Anniversary of St. George's Anglican Church
Synod theme: "Sir, we would see Jesus", John 12:21
Location: Travelodge Conference Centre, 1376 Carling Ave, Ottawa Ontario
Keynote speaker: Bishop Michael Nazir-Ali
Agenda
Bishop Michael Nazir-Ali, the retired Anglican bishop of Rochester UK, will be in Ottawa (hosted by St George's Anglican Church Ottawa) November 5-7. This internationally renowned speaker will be addressing timely and urgent topics including:
-Faith and a Secular Age: Implications for Christianity and Islam.
-The Coming Global Christianity: Mission, Persecution, Growth.
Details
Sat 23 October 2010, 7 pm
Citywide 4-corners event
One event, 4 locations, linked by technology.
Worship leader: Scott Towaij
Facebook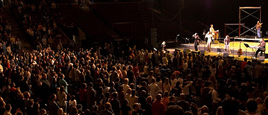 3 - 6 Aug 2010, 7 pm nightly
Flood the Valley! Revival Tent Meetings
Friday Baptismal Service 1-3:30pm, BBQ 4-5pm, & Healing Night 7pm
LOGOS LAND, 15906 hwy 17, Cobden, Ontario For more information contact 613-288-8120 or email admin(at)wcca.ca
...Brought to you by Ottawa Valley Outpouring & Churches all across the Valley (Pastors & Leaders Working Together)
Report: This is the first time in history of the Valley where this many churches have come together in unity! From Carp, Kinburn and Arnprior through Renfrew & Cobden, all the way up to Pembroke, Petawawa, Eganville, and even across the river to Quebec. On Tuesday evening 16 pastors stood side by side hand in hand on the platform coming together in unity declaring what God is doing in the Valley.
23 May 2010
Global Day of Prayer
11 Ottawa locations take part in the largest prayer gathering in history
Reports from the venues
GDOP HQ
22 May 2010
Catholic youth stage mass walk and rally in the capital
A Eucharistic procession - Photo report by Deborah Gyapong
26 March 2010
The Weston Lecture, Augustine College
Dr Ralph C Wood, Prof. of Theology and Literature in the department of religion at Baylor University, Waco, Tx.
Clothing our moral nakedness - education for Christian virtue.
This was an inspiring call to Christians not to divorce themselves from the world but to break down the separation of church and state in the public square.
Further information
Mon 27 July - Thurs 30 July 2009
Billy Graham Schools of Evangelism: "Reconnect with your calling"
Speakers: Claude Houde, Rick Reed (The Met), Charles Price, Phil Cann, Mark Hughes, David MacFarlane
A retreat focussed on exploring local church evangelism that will work in your community today. It's designed for pastors, church leaders and their spouses, with special attention to the needs of medium-sized and smaller churches regardless of denominational affiliation.

31 May 2009
Global day of prayer - City Church
11 May 2008, Pentecost.
Global Day of Prayer, Ottawa 5-min video
Join millions around the world in a global cry to God.
26 April - 31 May 2009
The Church: A Gift in Christ - 6 Seminars at St. Paul's Anglican Church, Kanata
Between these two dates six speakers will give a total of nine faith talks under the heading: The Church: A Gift in Christ.
The speakers are: Dr. Edith Humphrey, Rev. Dr. Jo Bailey Wells, Rev. Dr. Ephraim Radner, Bishop John Baycroft,
Rev. Canon John Bridges and Rev. Craig Bowers.
Details, including registration form
Registration appreciated as soon as possible.

7 November 2008 Billy Graham's 90th birthday



25-28 June, 1998
10 year Anniversary
of his Mission to Ottawa


24 May 2009
10 year Anniversary celebration for the first Good News in the Morning broadcast by Allen Churchill

I attended the press conference held just before the Billy Graham Mission, temporarily designated a jouralist by Fellowship Magazine. By chance I came across a recording of the press conference, where Allen Churchill gave a welcome address, and Billy Graham responded. Listen

Read my Diary of a Billy Graham Counsellor. Six months later CFRA began broadcasting Good News in the Morning every Sunday at 6 (am), which has run ever since. Allen Churchill Christian Ministries is planning an anniversary event which will also celebrate this post-mission decade.

Saturday 23 August 08
The Cry, Ottawa - Webcast Video 1 Video 2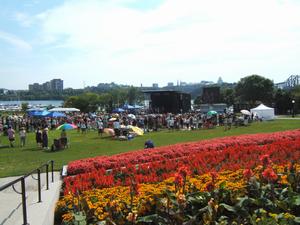 Links:
Why Cry?
Vision
Website
Listen Now
We live in an age of contradictions. While movements like The Cry suggest a softening of the Nation's heart towards Christ, Canada wishes to celebrate the chief architect of abortion on demand, and pass bills that limit parental disciplining of children while offering legal mind-altering drugs to those same children to curb behaviors that parents may not now curb. Lord, have mercy on us all, and may this Cry be heard in heaven!
Photo shows the first phase of today's event at Jacques Cartier Park, before the transition to Parliament Hill.
April - August 08
Revival Lakeland - Todd Bentley
The Lakeland Revival has two Ottawa connections. Shawn Gaby has led a number of impartation events here, and on 23 June, Rev. Barry Boucher joined many other apostles on stage at Lakeland to formally welcome Todd into the company of apostles, and bless his ministry. Watch it each night on God TV. Report by C. Peter Wagner. Yes, I am aware that in August, the enemy appeared to have invaded human frailty again - see John Arnott's statement. See Bill Johnson's wisdom. See God TV support for Lakeland.
Saturday 31 May - Sunday 1 June 2008
BISHOP MALCOLM HARDING IN KANATA
Bishop Malcolm is Bishop Suffragan and territorial Archdeacon (Prairies) for ANiC, and a director of Anglican Renewal Ministries and a former ARM Ambassador.

Events:
Sat 31 May, 7:30 PM. Bishop Malcolm spoke on "The person, power and release of the Holy Spirit."
Where: Glen Cairn Community Centre, 182 Morrena Road, Kanata. Light refreshments. Heavy anointing.
Bulletin insert Press release Map
Sun 1 June: Bishop Malcolm was Tony Copple's guest on "Over My Head," CKCU 93.1 FM,
Listen to the interview part - 20 mins
10:00 am. Bishop Malcolm preached at Kanata Lakes Fellowship.

15 May 2008
National Prayer Breakfast - Congress Centre
Interest in the breakfast has grown to the point where, this year for the first time in 43 years it moved from West Block on Parliament Hill to the Congress Centre. Eight hundred, including MPs, senators, ambassadors and Christian leaders came together for this celebration of the vital importance of prayer for our nation. David Anderson, M.P. is chair of the National Prayer Breakfast, and Jack Murta is chief organizer. In the photo: keynote address by Judy Graves, tireless worker with the homeless in Vancouver since 1974. Judy was able to bring the sheep and the goats of Matthew 25 to life before our eyes. See The Hill Times

11 May 2008
Global day of prayer - Dominion-Chalmers church
11 May 2008, Pentecost & Mothers' Day
Global Day of Prayer, Ottawa
followed Prayerwalk Ottawa, for the 90 Days of Blessing.

Wynne Lewis in Ottawa at Dominion Outreach Church
at the invitation of Bill Prankard, 30 Aug - 2 Sep 2007.
Wynne is Evangelism and Church Planting Director
of the Elim Pentecostal Churches in the UK.

Willow Creek leadership summit, 9-11 Aug 07
Ottawa satellite venue: Cedarview Alliance Church
2784 Cedarview Rd, Nepean, 613-825-5393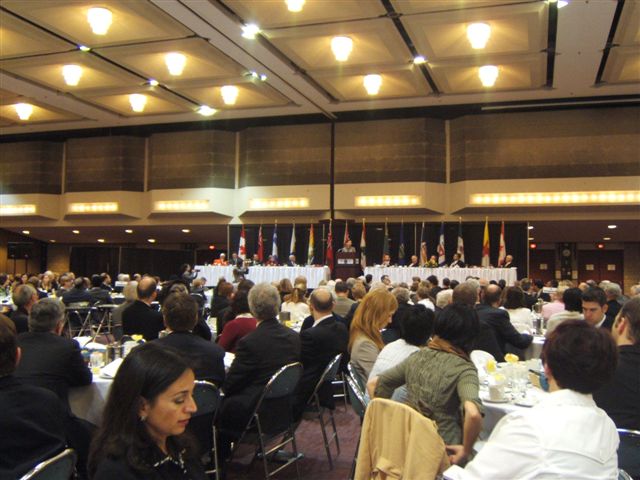 Judy Graves speaks to the National Prayer Breakfast

GDOP Ottawa 08 at Dominion-Chalmers
9 April
The Mystery of Easter - by Robert Sibley, Ottawa Citizen. Why is this (and the other items below) any part of revival in Ottawa? Not because it includes anything believers are not already aware of, but because this "proof of Jesus' identity" is very unusual in the secular media, and reflects an acknowledgment by the press of a change of heart in their readership. The material (same ground as the first Alpha tape "Who is Jesus?") has the power to convince an atheist of his error.
8 April 2007 - Easter day
Sunrise service on Parliament Hill
3-5 Mar 2007
The Ottawa Citizen published a major piece + a website on the rise of Christianity outside the Western mainline churches.
Faith on Fire - Part 1
Christianity on turbo charge - Part 2
Faith on Fire.
7 Feb 2007
Amazing Grace movie previewed to 260 MPs, senators and ambassadors, courtesy of EFC. Next day, shown to a smaller number of pastors and and leaders. This marvellous film about William Wilberforce's fight to end the slave trade against all odds has the power to awake dormant leadership for the Kingdom. Opens 23 Mar 07.
1-3 February 2007
Siege Ottawa Dominion-Chalmers Church
In the summer of 2005 James Goll prophesied in Vancouver Canada that the spirit of apathy was being broken off of the Canadian Church. Within 6 weeks (without having heard this word) we set out on the first SIEGE to Ottawa. The purpose of the SEIGE: to content for a moral revolution in our nation, meet with MPs & Senators & prophesy LIFE into an Army of Josiahs that God was calling to arise and reclaim the righteous foundations of Canada. Since this time we have stood in awe of all the Lord has done. 1.5 years: 4 Siege's, 1 CRY, thousands of Kms, participants & hours, hundreds of meetings in churches & with federal politicians.
A REVOLUTION has truly emerged.
A shift has happened in our nation.
An army has arrived.
29 January 2007
Prison Ministry - signs of a revival!
At a meeting today of the Prison Network Group chaired by OCDC chaplain Rev. Carl Wake, reports from various ministry leaders operating in the detention centre appeared to have a common theme: more and more evidence of the Holy Spirit at work in our prison. In one wing, every single inmate is taking part in regular Bible study, organized by inmates! A couple of years ago the Chaplain had shared with some of us his vision for just such a revival, when we would need all the volunteers we have, and more, to minister to the needs. See Prison ministry in OCDC.
22 Sept - 30 October
Bishop John Okinda returns to Ottawa
Again, Africa evangelizes Canada.
Preacher, Man of God, church planter, on the front lines of Christianity. Bishop John can come and speak at your church, or to your group.
Information and contact
8,9 September 2006
Alpha Conference
Location: St. George's Church, Metcalfe St, Ottawa.
Web Poster
This was a 2-Track Equip & Refresh conference for all local Alpha leaders
and also those who would like to run an Alpha course. About 120 came and were refreshed mightily. Watch for new Alpha courses...

4 - 7 August 2006
Miracle Channel's Dominion Conference 2006
At the culmination of this conference at the Crowne Plaza Hotel, Dick Dewert stated "Canada is a sending nation, and Canada is called to speak Shalom (peace) to the nations of the world."

13 - 16 July 2006
Zak Gariba & John Scotland in Ottawa
FUELING THE FIRE IN OUR NATION'S CAPITAL
Come and be Renewed in the Holy Spirit!
For more info contact Roxanne at 613.228.7535
Harvest Glory


15 July 2006
Cry 2 Him
Parliament Hill, all day. No registration.
We are gathering as a nation, young and young at heart, to praise, worship and lift a CRY 2 GOD for the fulness of His dominion to come in our generation. Come make HIStory with us!
Web


27 May - 11 June, 2006
Love Ottawa
Together let's be a friend to our city


4 June 2006
Global day of prayer - The Life Centre
Global Day of Prayer: Sun 4 June - Main Ottawa Event
Home Vision: next GDOP: 27 May 2007 in an Ottawa stadium!

1 June 2006
National Prayer Breakfast, Parliament
The largest turn out yet for this annual event attended by hundreds of MPs and invited religious leaders. Although technically a multi-faith event, the name of Jesus was lifted high and often! The main speaker was financier Thomas Caldwell. His powerful speech calling for the return of Jesus to the world of government was reported on in the Ottawa Citizen: read it here.

31 May 2006
Church planting course - "Invading Secular Space"
Speakers Martin Robinson, Alison Johnson, Jay Pinney made this a very special day.
Church Planting Canada - local co-ordinator, Alison Johnson.

Sat Oct 29, 2005
The Gathering, at the Corel Centre
City-Wide Worship and Prayer presented their huge annual event this year in Kanata
on Saturday Oct 29 from 7 - 9 pm. This was a chance for all Ottawa to join together
in joyous praise and worship. There were about 2600 worshippers turned out, more
than twice the numbers for the 2004 Gathering.
Web Info

14 October 2006
National House of Prayer established in Ottawa
Rob and Fran Parker saw their vision for a National House of Prayer become a reality, a stone's throw (almost) from Parliament Hill: 17 Myrand Avenue. They are to be increasingly involved in revival for the nation, and their location means this will have a central effect on revival in Ottawa. My first visit was to join in prayer for the members of parliament a couple of days prior to the January 2006 federal election.
Web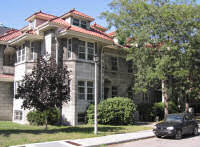 Aug 2, 2005
Alpha's Nicky Gumbel visits Ottawa for a day, speaking at Bethel Pentecostal Church and in the Houses of Parliament.
See the pictures.


May 21 - June 12
Love Ottawa - prayer festival
Promoted by Mission Ottawa/Outaouais on behalf of EFC's Celebration 2005
Over 40 churches taking part...
Love Ottawa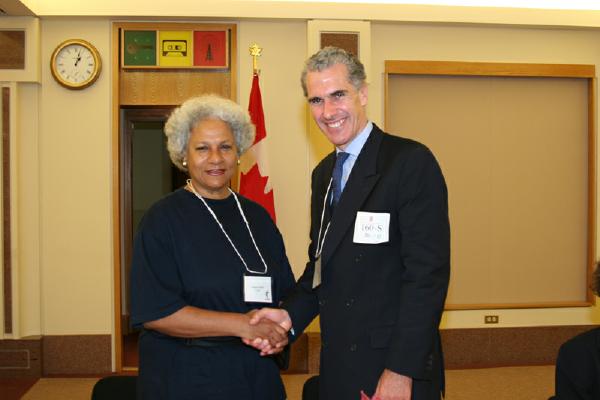 Senator Anne Cools hosts Nicky Gumbel
Aug 11 - 13, 2005
The Leadership Summit 2005
Willow Creek Association, 1 event, 3 days, 100 cities in North America, including Ottawa.
A major training event in Christian leadership
Jan 8, 2005, 1:30 pm - ~9:30 pm
A Year of Prayer for Canada - National Launch - presented by EFC
Where: Dominion-Chalmers Church, 355 Cooper St., Ottawa
Speaker: Brian Warren, Director, Canada in Prayer
Web: http://www.celebration2005.ca/
Athletes in Action: Grey Cup Breakfast Sat Nov 20, 2004
First, check the Web.
This is a truly terrific opportunity for outreach to sports fans. Post event follow up will be provided by Alpha. You are urged to check this out. If you are interested in sponsoring a table or inviting friends to a table, please let me know so we can coordinate our efforts
- Tony, 591-3903.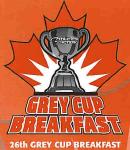 The Gathering October 30, 2004, Bethel Pentecostal church
Co-organized by Mission Ottawa / Outaouais and City-Wide Worship & Prayer, The Gathering was a night when 1200 Christians from across the region gathered to worship and pray in unison. It brought together followers of Christ burdened with the need to pray for the healing and uniting of the Body and the transformation of the National Capital Region. Moo was formed to continue the good work started in the city by Billy Graham in 1998, and we see the fruits of that event continuing to be manifested. A really excellent DVD, "Just Imagine," was made by City-Wide W & P to advertize this event, and if you have a copy, treasure it.
Downloads, including "Just Imagine" City-Wide video.
October 2004
Pastor John Okinda visited the Ottawa area from Kenya, His visit was sponsored by Ambassador Ministries in Covenant. Mission meetings were in churches and homes in Russell and Kanata. More background on him is in the attached document. In a recent e-mail John Okinda wrote about finally receiving his Visa from the Canadian Embassy in Nairobi last week and unexpectantly they refunded to him his application fee. He wrote: "The Canadian Embassy gave me the Visa they refunded me the money for the visa application fee and said to me that because I am going to Canada to preach and teach the Word of God they cannot charge me anything, this has never happened to me or to any person I know, this must be God. This was a miracle!"
See subsequent correspondence with Pastor John Okinda.
Monday Oct 4, 2004, 7:00 - 10:00 pm
Anointed for Business
Marketplace evangelism conference, with Ed Silvoso
Location: The Life Centre, Innes Rd
Web: www.harvestevan.org
Monday Oct 5, 2004, 9:00 am - 12:00 noon
Women: God's secret weapon
Speaker: Ed Silvoso
Location: The Life Centre, Innes Rd
WorshipFest 6 - 8 August 2003
This year at Nepean Equestrian Park
With Nicole C Mullen, Jacqui velasquez, Robin Mark, Pillar, Starfield
Ottawa Revival and Healing Conference 2004
Aug 2-5, 2004, at the West Carleton Christian Assembly
Speakers: Rev. Paul S. Chang, Missionary Rev. Sooyoung Choi, Missionary Rev. Whajin Noh, Pastor Mark Redner
Sponsored by the Ottawa Divine Healing room (ODHR), 613-254-7397

The Passion of The Christ - opened in cinemas 25 Feb 2004. A month later it was the 18th most popular film of all time, and rising. In view of the quality of the message of this film, it will surely have an effect on faith in the world and in our city.

WorshipFest 29 - 31 August 2003
Major local Christian praise and worship festival, with the Newsboys, Avalon, Capstone and many others.
Sponsored by Compassion Canada, CHRI FM, Capital City Church, and Alpha
Included "Alpha Day," Sunday Aug 31
Location: Cumberland on Capital City Church new land

Soulfest Canada 27 - 29 June 2003
Christian contemporary music festival with 50 acts including Downhere, Rebecca St. James, Five Iron Frenzy, Michael W. Smith, and (wow) Delirious?
Right here in Ottawa - well, Cobden. Amazing!

Spiritual Leadership Conference 21 - 22 February, 2003
The Ottawa Canadian Chinese Christian Professional Fellowship (OCCCPF) presented a spiritual leadership conference conducted by Dr. Richard Blackaby, president of Southern Baptist Seminary, Cochrane, Alberta, speaking on church and personal leadership. Our vision is that through conferences like this, churches in Ottawa can be revived through the encouragement of Godly, servant leadership.
Edward Ng, Chair of OCCCPF

Pond Inlet visits Ottawa - SOMA mission October 2002

Sept 8 Ottawa memorial service for Sept 11 - City Hall, Ottawa

The Cry - August 24, 2002 - youth rally on Parliament Hill

World Youth Day Ottawa mass July 21, 2002, a week before World Youth Day with the Pope, in Toronto.

Ottawa Alpha Conference October 19-20, 2001

Marc Dupont, prophet, at City Church, June 21 - 24, 2001. See prophecy below: "A Fresh Wind is Coming over Canada."

Transformations II film presentation, Bethel Pentecostal, June 4, 2001

Watchmen for the Nations March 15-17, 2001

Billy Smith Miracle Crusade, Christian Healer, Word of Life church, Feb 2001

Heart of Ottawa Mission - affinity group evangelism, Leighton Ford, 16-20 Sept, 2000

Promise Keepers, 27 May, 2000

Canadian Prayer Assembly, 24-27 May, 2000

Harvest Kanata - vision, Oct 31, 1999

Billy Graham, Mission Ottawa, 25-28 June, 1998
This was the spark that seems to have ignited more intense Chrisian faith-based activity in Ottawa. After Dr. Graham had departed, Mission Chairman Allen Churchill got the idea for a weekly evangelistic radio broadcast. Of nine local stations approached, only one, CFRA, showed interest. From then on, Good News in the Morning has been broadcast by CFRA every Sunday. See Allen Churchill Christian Ministries.

Bill Phipps, "I don't believe Jesus was God" - kick-started some of us into action. 24 Oct 1997, one week after I started my Alpha course.
The Servant Leadership Team
The Servant Leadership Team is a group of pastors and leaders from the local Ottawa area who have sensed a call to encourage prayer for the city and to stir the hearts of leaders for city transformation. They believe that God has a marvelous plan for the National Capital Region, that begins with changes people's hearts. The team believed the way to change the receptiveness to the gospel is through prayer ... persevering prayer and real unity of our local churches.
Chair of the Team is Rev. David Crawley
Mission Ottawa/Outaouais Web
89 Auriga Drive
Nepean, ON., K2E 8C4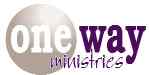 City-Wide Worship and Prayer


Date: the last Saturday of every month (except December)
Time: 7:30pm--Prayer and worship for the region and local churches
Location: Metropolitan Bible Church, 453 Bank St.
For further details click the banner above.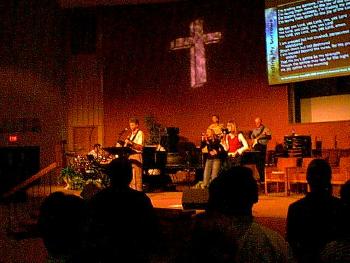 City-Wide's Mission Statement: Worship with Purpose, Pray in Unity.
Clearly, there is no greater purpose in worship than to give honour and glory to God. What this statement refers to is that at City-Wide we worship with an additional purpose. We gather and intentionally put aside our differences to celebrate our unity in Jesus Christ.
While prayer is a component of worship, we draw special attention to it to emphasize its importance in the context of City-Wide. We pray in unity during the worship celebration, and continue to pray in agreement through the month either in response to the e-mail prayer requests or at on-site prayer missions.

A Fresh Wind is Coming Over Canada!
by Marc Dupont


In the late summer of last year, 2000, the Lord spoke to me that there was soon coming a fresh wind of the Holy Spirit over the nation of Canada. And for those congregations that had been seeking to hear what the Holy Spirit was saying to the church of Canada they were going to find that the winter storms were over and the spring rains were now softening the soil. And that soil which has been nourished through prayer and worship was going to grow fruit and vines much quicker than normal. As, well the fruit would also be larger than normal. As many congregations have been whole heartedly seeking the Face of God for their cities and country, they were going to experience a bumper crop this season.

I saw and experienced warm and scented winds coming over the land of Canada. Just as the fore fathers felt to include Psalm 72.8 in the heritage of their nation, so it will prove to be both prophetic and a reality for this present church generation. They shall experience God's having "dominion also from sea to sea, and from the river unto the ends of the earth". The river that began in Toronto 7 years ago shall, indeed, cover the land and continue with even greater power to go to the ends of the earth.

I saw the soft spring winds rippling over the nation. There was a "goldenness" about the winds. They seemed to be lightly colored with gold, which stood for the purity of clean hands and pure hearts which have been prepared to receive the Holy Spirit of the Living God and make a resting place for Him. As well, there was a fresh scent that came with the winds. A scent of incense, and frankincense, and myrrh. It was a scent of Levitical worship for the Presence of the Lord. As well, it was the scent that both woke up the (spiritual) senses of the church, but also filled the Bride with expectancy and love for the Bridegroom- Christ. The Lord said to me, that where as the work of the harvest has seemed difficult, slow, and sporadic there was now going to be a joy and ease in the work. The winter rains have been preparing the soil. And even though the soil has seemed muddy and difficult to work for the laborers, what those rains have accomplished is allowing the rocks which have been entrenched in the hard soil to be loosened and to work their way to the top. Those obstacles which use to break many plow blades and cause the plowing to go slowly are now going to be easily removed through prayer and deliverance.

Recently, while ministering in the capitol of Canada-Ottawa, I felt the Lord say the following; These are the days of many congregations in Canada going from glory to glory. Seven years ago the Lord began to pour out the new wine and the oil of the Holy Spirit in Toronto- a great Canadian city of commerce. In that powerful move God has given the church of Canada some new currency. Instead of trading in tradition and programs like in the past, many congregations have learned to give out the joy of the Spirit and the peace and love of the Father's Heart. In this move Canada has proven to be a well for the nations.

But a fresh move is going to be added to the one of seven years ago. Just as Ezekiel experienced two parts in his vision of the dry bones coming to life so there will be two significant aspects of what God has in store for Canada. The first part brought a shaking and rattling the seriously shook up the religious death grip over many congregations. As well it brought much need unity to the church. A unity, not made by man, but of the different joints and bones of the church of Canada coming together in the Sprit in a fresh way. Those bones that came together for the purpose of seeking God were given muscle and sinews and tendons. They received a fresh strength to stand in the Lord and overcome the warfare of the enemy. But now a second wind is coming. This wind will enable the newly formed body to jump, run, and even mount up in the purposes of God and soar in His power and grace. This fresh wind will come on those congregations that have moved towards unity and learned to prefer one another just as Christ Jesus came to serve, rather than to be served. This second wind will release apostolic authority to the church of Canada.

Just as the first phase of this move which began in financial city of Toronto gave the church a fresh currency of peace and joy, so this new move will be governmental. The first rains brought refreshment but were also prophetic. They spoke of the possibility of what could take place through out the nation. This second move, will be a joining of the apostolic to the prophetic. A governmental type of authority will come on many churches and leaders through out Canada. There will be fresh anointing of power and authority coming on many. The move of the last 7 years has prepared many for this increase of the Spirit. Just as many have fallen deeper in love with Jesus, so they will now receive this anointing and not be caught up in their own ministries, but will be caught up it the ministry of the Holy Spirit. They will not represent their own empires, but rather Jesus and the Kingdom of God.

Indeed, Ottawa, the governmental city of Canada shall have a key role in this move. But it shall not be limited to Ottawa. Toronto and Vancouver, as well as other cities and towns, are going to be epicenters of this move. The church is built on the foundations of the prophets and the apostles and now, the foundation of the church of Canada is going to go deeper into it's prophetic and apostolic foundations. This will result in the living House of God growing both up and out. It will grow closer in intimacy with God the Father, but it will also grow outwardly to take in more hurt and broken.

Know this, that God, in His sovereignty, has chosen the great nation of Canada to impact the world on even a deeper level. Just as Canada is rich in natural resources but has barely tapped into those resources so the church of Canada is rich in Christ, but has barely tapped into the resources that Christ Jesus has for her in His Spirit. But the Lord says to have hope and lift up your eyes. You are going to be warmed and strengthened in the fresh wind that is coming. You shall walk and not faint, run and not be weary, and even though the church institutions of man stumble badly, you shall mount up in the purposes of God.