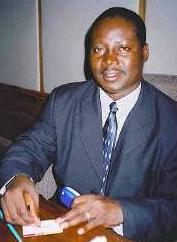 Bishop John Okinda
Migori Worship Centre
Box 1150 Suna 40400,
Migori, Kenya
Tel: 0592 0227
(Mobile 0722 676902)
jokinda@africaonline.co.ke
18 July 2006
Bishop John Okinda's schedule in the Ottawa area

Sept. 24     Sun:  Kingston to hear Stephen Lewis
Sept. 26-28  Tues. to Thurs.  9:30 to 11:30am
Oct. 1       Sun. 10-11:30 a.m.  Covenant Fellowship
Oct. 3,5,6   Tues., Thurs. and Fri.  9:30-11:30am
Oct. 4       Wed. 7-9:30 pm  208 Forced Rd. Russell
Oct. 8       Sun. 10-11:30 a.m. Kingston, Ont.
Oct.  10-13  Tues. to Fri. 9:30 to 11:30am
Oct. 10      A. C. W. 7pm Russell
Oct. 11      Supper in Navan 5:30pm (Ang. Church)
Oct. 12      DVD presentation of photography from Africa
Oct. 15      Sun. 10-11:30 a.m.  Covenant Fellowship
Oct. 17, 19, 20  Tues., Thurs. and Fri.  9:30-11:30am
Oct. 18      Luncheon with seniors at Church St. Apts. Russell
Oct. 18      Wed. 7-9:30 pm 208 Forced Rd. Russell
Oct. 21      St. Paul's Anglican Church, Kanata  7pm
Oct. 22      St. Paulís Anglican Church 1:00pm
Oct. 24-27   Tues., Wed., Thurs., Fri. 9:30-11:30am
Oct. 28      Menís Breakfast, 9:00am, Anglican Church,Russell
Oct. 29      Sun. 10-11:30 am Nationside Church, Chesterville


All meetings including the Sunday services will be held at 208 Forced Road, Russell, ON. For more information call Vinita Baker at 613-445-3233

If you wish to have Bishop Okinda speak at one of your events or in a group setting please talk to Vinita to schedule him in. Time is still very flexible even Sundays


Dear Partners in Ottawa,

Shalom!

It is with great pleasure to write to you; in fact I am so happy because I am planning a trip to visit your geat country for the second time!

Am trusting to arrive on 22nd September 2006 and depart 30 October.

I will be honoured to talk on many issues including the rapid church growth here in Migori, the orphans and the orphanage which we are building, the village high school, the training of ministers, and above all doing what I love to do, SHARING GOD'S WORD.

The purpose of writing is to see if you can make some arrangements for me to meet with various groups, your church, family friends, your family and any others. I am ready to meet with any number of people, even one person will be ok. I may also use the trip to fundraise for the work here, like buying bicycles for the ministers, bibles for the new converts, buying iron sheets for roofing churches which currently meet under trees, finishing the orphanage and many others. Please write back if you will be willing to make some connections. I will be honored to see you again.

I am so happy to report to you that Rev. Vinita Baker and her husband Harry have opened their home for me; what a blessing! since it is about four weeks, if you would want to host me for a week or less I will be honored to consider that as well, this you can share with me and I will also share with Rev. Vinita. Let me say that as time allows I will be very happy to sight-see in your area again.

I also wanted to meet with individual sponsors - those that are sponsoring the orphans, for I am carrying the letters from these kids, maybe together with Alanna Box , from Russell who is a sudent at Queen's University curently in Kenya, with Meaghan Kid together with you , we may be able to get the sponsors for the remaining 70 plus orphans, please pray with me on this.

I do a wait to hear from you soon.

May the Lord bless your efforts richly. I am looking forward to seeing you soon. Thank you.

Yours in Him,

Bishop John Okinda.

P/S I do not know if there any thing you would want me to bring to you from Africa? Kenyan tea? Please let me know.
---
If you would like to arrange for Bishop John to speak or preach at your church, please contact Rev. Vinita Baker, 613-445-3233. Beware; he may change the lives of your congregation forever!

Mission to Migori 2005 by Meaghan Kidd, Alanna Box, Laurie-Ann & Tony Copple
Misson